The things we do for comfort....
If you're not moving forward, you're falling behind. This is as much true in racing as it is in business. And it's why we are constantly looking for ways to improve our product. Epix releases updates to our apparel every year, and sometimes more than once per year. Whether small tweaks to existing styles, or totally new items- we never stop developing. And the key to successful product development is extensive and rigorous testing. We take a scientific approach to our product testing and separate tests into 3 categories:
- Durability Machine tests
- Fit tests
- Wear tests
It all starts in our testing lab, which consists of a few workstations of machines that never stop trying to destroy stuff. We test for material durability in several ways; chlorine baths to simulate the effects that swimming in chlorinated pools has on fabrics over time. Abrasion tests, which simulate the effects of the apparel coming in contact with abrasive surfaces, such as race belts, velcro, saddles, and even rubbing against itself. UV tests check for the UV protection offered by various fabrics. Stretch tests determine how well the material returns to form after thousands of stretches. Finally, color fastness tests are done
on fabrics to determine how well they respond to sublimation printing under various conditions. We also ensure all of our fabrics are free from toxic chemicals by using only certified non-toxic materials.
"How does moving a stitching line 1 inch affect the fit of your tri suit? Does increasing the size or firmness of the tri chamois improve comfort?"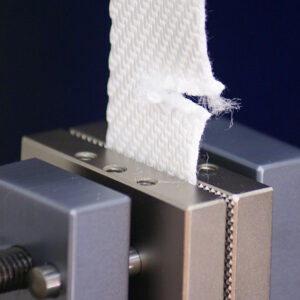 Fit tests
These are a quick fitting test of a garment which we are working on improving (or a totally new prototype). The fit test is normally done at the factory by testers who's measurements match our fitting chart. We look for problem areas of discomfort, over-tightness, loose or bunching fabrics, overall sleekness and basic function. At this stage, we normally only test at one size. Full size range/extreme size testing is done on the wear test stage.
Wear Tests
Sometimes you don't know if your tri suit has a pressure point until you've been wearing it while riding for many hours. This problem is solved with wear testing. Once we are confident that we have a product that is ready to be put through the paces, we work with a team of athlete testers who swim, bike, and run in our prototypes. This includes our sponsored pro athletes who compare the comfort and fit across various iterations of the prototypes as well as other brands. We also ask reputable product review outlets such as Tririg to give their opinion on our finished product. The wear testing process normally takes several months and involves tweaking the product as potential problems are revealed. How does the apparel perform in saltwater vs freshwater? How does moving a stitching line 1 inch affect the fit of your tri suit? Does increasing the size or firmness of the tri chamois improve comfort? How to best accommodate the widest range of body types? These are just a few of the typical questions we answer via the testing process.
Analyzing customer feedback
Despite a rigorous testing program, once in awhile we still miss something. This is why we take feedback from our customers very seriously. Our customers are also our best source of knowledge when it comes to what to develop next. This is demonstrated in our latest round of GoFierce Pro-Edition apparel set to launch for 2019 season. We took the feedback from our customers and athletes as the basis for the product improvements that have been incorporated into the apparel.
Comments Off

on Never Stop Improving
May 21, 2019